When it comes to living in a colder area, you most likely rely on your furnace quite a bit. If you want to stay warm in the colder months, it is imperative that you maintain your furnace properly. Allowing your furnace filter to go bad or turn black is not a good idea. Make sure to replace your furnace filter every 90 days or less. Where is the furnace filter located? Furnace filters are located near the floor of the furnace compartment of the side door.
Let's take a look below at more details regarding where the furnace filter is located.
What Is A Furnace
A furnace is what heats the air to heat your home. Homes that are located in colder climates will likely have a furnace. They are typically located in the center of your home, within a utility closet, or in the basement of the home. Also, a furnace can be found in a crawl space or attic space.
Where Is My Furnace Filter
When it comes to a furnace filters they are installed in the blower of your furnace. The blower location depends on how the furnace is installed and the type of furnace. Let's take a look below at what the possible furnaces are.
Vertical HVAC unit with air moving downwards – the air filter is located in the top door where the upper blower compartment is located. These will typically require two filters for the furnace or AC unit.
Vertical HVAC unit with air moving upwards – the furnace filter is located in the bottom door. The blower is located at the bottom of the door. To get to the filter you need to open the top and bottom doors.
Horizontal HVAC unit – this furnace filter is at the intake side of the unit and slides into the rack.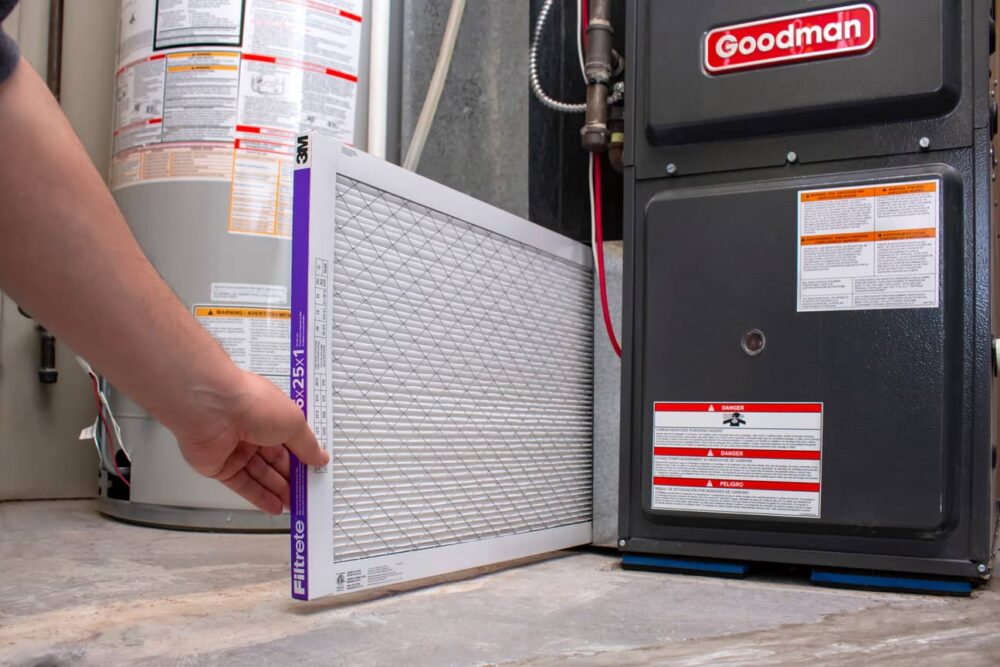 What If I Don't Change The Filter
Just like any other appliance, if you do not change the furnace filter it will affect how your furnace operates. Let's take a look below at what actually happens.
HVAC stops working – if the airflow is limited or blocked due to an old furnace filter, your system will stop running.
The furnace will overheat – if the airflow is not steady as it should be, the temperature of your furnace will increase. If overheating occurs, the furnace's safety switches will shut it off.
Short cycling can occur in your HVAC system – this occurs when your system has to keep working harder to cool or heat your home. Poor airflow makes the unit feel like it should start and stop more often.
Frozen cooling coil – without the proper airflow in your HVAC system, the cooling coils will freeze.
How Much Does It Cost
The average cost of a furnace filter ranges from $10 to $50. The final cost to the homeowner depends on the size and model of the furnace.
Other Recommended Maintenance
Now that you are aware of where your furnace filter is located, it might be a good idea to replace it. If your furnace filter is black, it might be something to look into. Make sure that your furnace is maintained properly so that your black filter doesn't cause bigger issues.
Next, it is a good idea to read up on how long your HVAC system should last. If you maintain your HVAC system on a regular basis, you will get the longevity that the system offers.
Lastly, while the concept of heating your home is fresh on your mind, this would be a great time to inspect and clean your chimney and fireplace. As you conduct your regular furnace maintenance, it would be a great idea to also conduct chimney and fireplace maintenance at the same time. This ensures that all of your heating options are available in the colder months.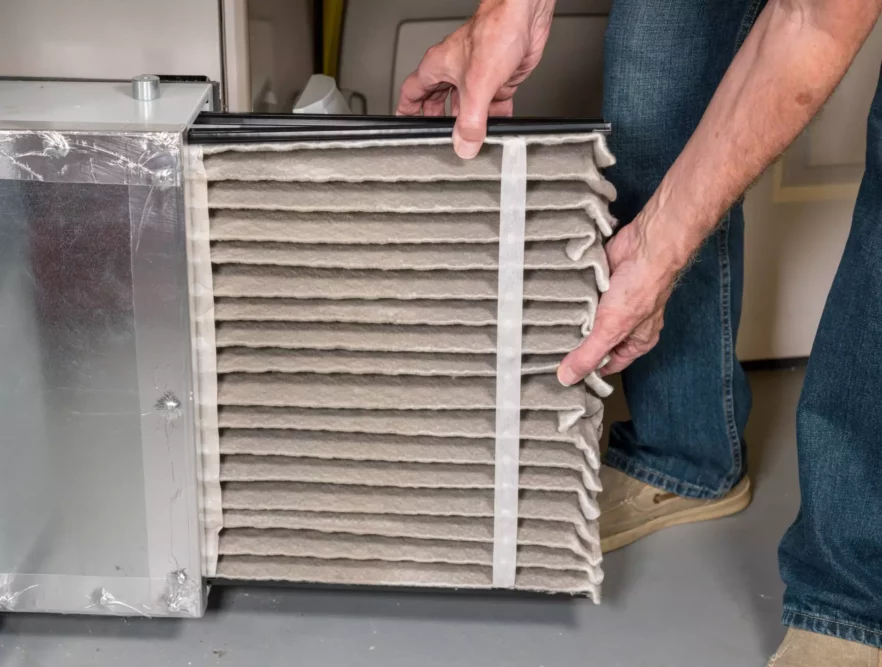 When Do I Call A Professional
If you have an issue with your furnace or HVAC system, you will need to call a professional. Most homeowners do not have the access to replacement parts or an understanding of how to make the repairs. Keeping your HVAC system up and running so that your cold air in the summer or heat in the winter is available for your home is vital. If you aren't sure who to call for HVAC services, reach out to your local home inspection team. They can assess your furnace and HVAC needs and recommend a reputable HVAC service technician.
Conclusion
As stated above, a furnace filter should be replaced every 90 days or sooner. As your HVAC system works, the furnace filter will collect dirt and debris from pets and the environment. To keep your furnace and total HVAC system functioning properly, you will need to maintain them on a regular basis. If you aren't sure about the condition of your current furnace, call on your local home inspection team. They can inspect the furnace and make recommendations for an upgraded model. Reach out to House Inspection Associates to conduct a full home inspection in the Virginia, D.C., and Maryland areas.