Our highly trained inspectors perform a thorough Level 2 Chimney Inspection. It's an inspection of the entire chimney wherever it's visible and accessible: on the outside, on the roof, in the basement or the attic, inside the home, and inside the chimney which includes running a camera up the chimney flue to scan for possible defects. If you live in Reston, VA and Northern Virginia, call us today for a chimney inspection.
What is a chimney inspection?
A chimney inspection is the process where our certified technicians examine the condition of the chimney structure, flue system, and the basic appliance installation and connections, to confirm that it's free of obstruction and combustible deposits.
A level 2 inspection will address proper clearances from combustibles in accessible locations, so it should also include an inspection of the accessible portions of the chimney exterior and interior, including attics, crawl spaces, and basements.
What is a chimney cleaning?
A chimney cleaning is a process of removing creosote from your chimney's flue system to prevent chimney fires. In Reston, chimney inspections and cleanings are one of the best things you can do to protect your home and family. Over time, creosote and other combustible byproducts, produced by your crackling fire, can build up inside your chimney's flue system. If there is a significant amount of buildup, typically ⅛ inch, your chimney will need to be cleaned. This why it is very important to keep your wood stove, chimney and fireplace clean and in good condition.
Is Chimney Cleaning Worth It?
Protecting your home from damage and your family's safety is your priority. To reduce the risk of fire hazards in your home, you must perform a professional chimney inspection to make sure your chimney is clean. Creosote buildup and other blockages in your chimney can cause it to deteriorate. If the intense heat of the flames in your fireplace ignites any of these materials, you will experience a chimney fire. The chimney technicians can clean your chimney to ensure it is safe.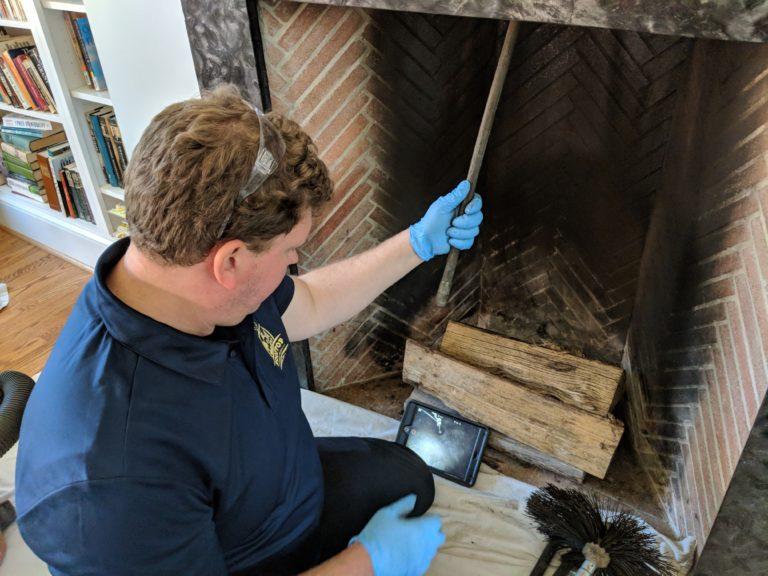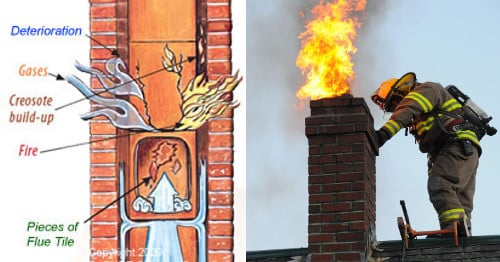 How Often Should I Have My Chimney Cleaned?
Generally, once a year is recommended. If you haven't had your chimney cleaned before, it likely needs to be cleaned right away.
What Does Chimney Cleaning Service Include?
The fireplace, the damper, and the chimney cap and interior. This should suffice for chimneys cleaned regularly once a year to eliminate creosote residue. Deep cleaning would include more extensive cleaning of the listed components as well as the flue and cap.
Why is an inspection and chimney cleaning important?
An Inspection and chimney cleaning ensures that your chimney is free from any and all potential fire hazards, including creosote buildup and blockages created by animal nests and other debris. These hazards can lead to your chimney's premature deterioration, and if ignited by the intense heat of the flames, can start a chimney fire. An inspection will also identify any structural or interior damage to the chimney that poses a danger to your home. Chimney services, such as chimney sweeping and chimney repairs, help contribute to the health and safety of your home.
When Should I Schedule a Chimney Inspection?
When making a change to your system – like installing a new appliance, replacing your flue liner, or changing fuel types or appliance types.
When you are having problems with your chimney system, or you have noticed a change in performance.
When you have had a chimney fire, severe weather, or other significant event that could have damaged the chimney system.
When you are moving into a new home.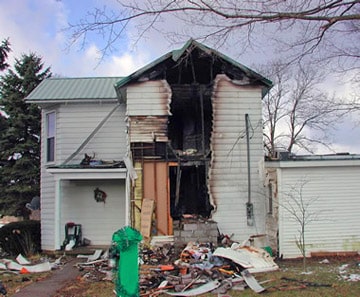 Additonal Services

TERMITE INSPECTION
Termites can cause serious structural damage to your home because they live in colonies that can number from several hundred thousand to several million.

SEWER SCAN
HIA LLC offers full array of real estate inspection services including the best home inspections available, radon, mold, SewerScan and indoor air quality testing.

INFRARED THERMOGRAPHY
Infrared Thermography Scan is a valuable add-on service to your home inspection. We can "see" thermal signatures and locate air infiltration points at walls and ceilings, find worn/damaged window and door weather seals

CHIMNEY LEVEL II INSPECTION
A chimney inspection is the process where the technicians examine the condition of the chimney structure, flue system, and the basic appliance installation and connections, to confirm that it's free of obstruction and combustible deposits.

SWIMMING POOL & SPA INSPECTION
A pool inspection ensures that there are no surprises when you go to use your pool for the first time. This inspection includes critical information on the condition of the pool's structure, filtration, heating systems…

RADON TESTING
Radon is a cancer-causing, radioactive gas, which is colorless, odorless and tasteless and occurs naturally in soil. It is produced from radium, a byproduct formed in the decay of uranium.

Mold testing
Molds have the potential to cause health problems. Molds produce allergens (substances that can cause allergic reactions), irritants, and in some cases, potentially toxic substances (mycotoxins).

Indoor Air Quality testing
Children are more susceptible to air pollution because they breathe a greater volume of air relative to their body weight.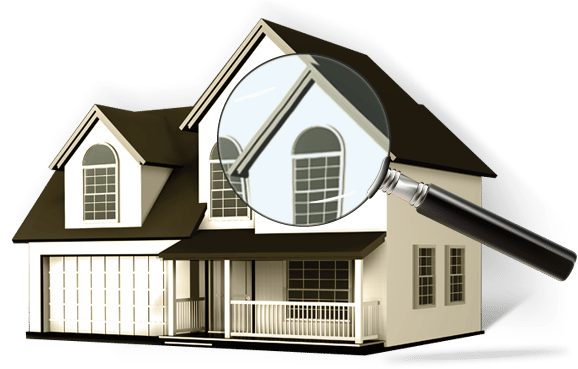 FAQ
Frequently Asked Questions
HOW DO I CHOOSE A GOOD HOME INSPECTOR?
Choosing a good Home Inspector is key. There are many out there so be sure to do your research first. Look for an inspector with extensive experience, certifications, credentials and insurance.
WHAT CERTIFICATIONS AND/OR CREDENTIALS SHOULD A GOOD HOME INSPECTOR OFFER?
Look for an Inspector that is affiliated with ASHI (American Society of Home Inspectors.) An Inspector with certifications in areas of importance such as Radon Testing, Mold Testing and Remediation, is also key to providing you a thorough inspection.
WHY CAN'T I HAVE SOMEONE IN MY FAMILY WHO IS VERY HANDY OR A CONTRACTOR, INSPECT MY NEW HOME?
This is the biggest mistake many potential new homeowners make when purchasing a home. Although the person you are considering may be very skilled, most likely, they are not trained or experienced at professional Home Inspections. Professional Home Inspection is a unique skill like no other. Professional Inspectors have a keen instinct for problems. This instinct takes extensive training and years of experience to develop.
HOW LONG WILL THE INSPECTION TAKE?
Most Inspections take about two to three hours. These times may vary depending on the size, age & condition of the home.
SHOULD I BE PRESENT DURING AN INSPECTION?
Yes; we recommend that clients not only be present during the inspection, but also involved. Home Inspection Professionals strive to be the best and a big part of how we do that is by educating our clients about the property they are looking to purchase. By being a part of the process, clients not only become familiar with the subject property but also become informed about the investment opportunity they are faced with.
CAN A HOUSE FAIL AN INSPECTION?
There is no pass or fail. While it is true that a thorough home inspection may uncover areas of concern, some which may present costly repairs, a need for updates and improvements or future maintenance and upkeep challenges, the evaluation may also bring to light attractive and valuable assets which sometimes lie hidden under the surface. HIA's 1600 point home inspection gives clients a piece of mind, allowing them to be confidence in their buying decision.